As followers of Jesus, the people of Faith believe we represent Christ's presence in the world, and as Christians we are to be that presence as fully as possible. This includes reaching out to those in need through a variety of mission projects and outreach ministries. Not only are our members generous with their time and talents, but they're also generous with their financial resources, contributing to help homeless adults served by The Justa Center, located right here in Phoenix, AZ; saving lives in Africa through our Annual Conference Imagine No Malaria campaign; and collecting non-perishable food items to help the Desert Mission Food Bank provide food for the needy in this community.
Other mission and outreach ministries include:
The Zippers, which is a group of quilters, sewers, and crafters who make lap-robes and slippers for donation to various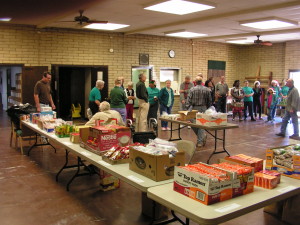 community service organizations. They meet on Tuesday mornings at 9 a.m. at the Church.
Through our Christmas Food Box Mission, we buy, assemble, and deliver food boxes to families in need during the holiday season. During the last two years, we delivered about 70 food boxes packed with canned fruits and vegetables, boxed cereal, rice, hygiene products, and other important personal care items.
Several t
imes each year, our church hosts homeless families through an arrangement with Family Promise®, a non-profit organization that helps them attain self-sufficiency while retaining their dignity. By hosting these families, we are able to help the organization keep costs down while providing a safe and supportive environment for these families who are committed to lifting themselves out of poverty and homelessness.
Our Community  Market provides a venue for people in our community to buy and sell a variety of treasures. Open on or about the second Saturday in May and November, individuals and groups are encouraged to make a small donation to "rent" a space where they can display their "wares"…because after all, one person's trash is anothers' treasure!