Faith United Methodist Church is a community of believers that has served the northwest Phoenix area for over 50 years. We are a friendly group of people who engage in Spirit-filled worship together, learn about Jesus and his ministry, serve those in need in our community and throughout the world, and enjoy times of fellowship and fun activities.
Our worship ser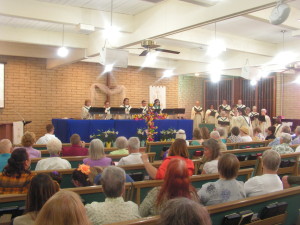 vices include a good balance of traditional and contemporary music along with inspirational messages that encourage us to move out into the world and serve others through a variety of mission opportunities. Our community garden provides fresh food to the Desert Mission Food Bank, and our Sidewalk Sunday School ministry helps young people in the community develop good values that empower them to turn away from negative messages and behavior. We are truly "People Caring For People," looking for others who are called to serve God by serving others.
If you are looking for a church home, please consider joining us in worship. We are located on 19th Avenue just two blocks south of Dunlap Avenue. Because of the light rail tracks down the middle of 19th, it is best to enter our church parking lot from the north or from the entrance on Alice Ave (you can make a U-turn at Alice if you approach on 19th from the South).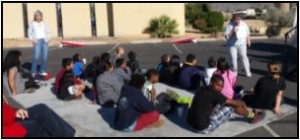 Our worship service begins at 9:30am and is followed by a time of fellowship called "Coffee Chat." As a smaller church, we offer many opportunities to make friends and affect people's lives through God's love working through us to benefit others. We hope you will join us and look forward to meeting you.
God bless,
The People of Faith United Methodist Church